Prototypical R | 1991 | oil on canvas, 38 x 51 cm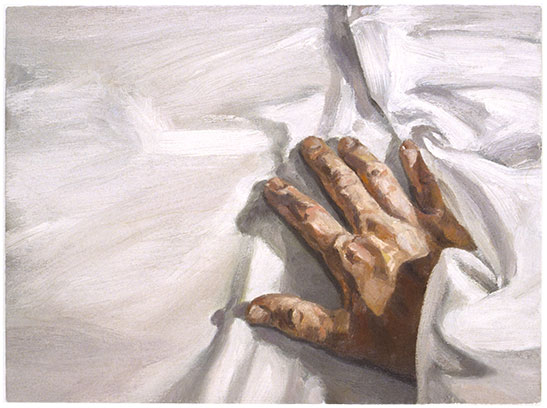 Drei Abhandlungen zur Sexualtheorie | 1990 | 49 pastel drawings on book text & paper, 74 X 544 cm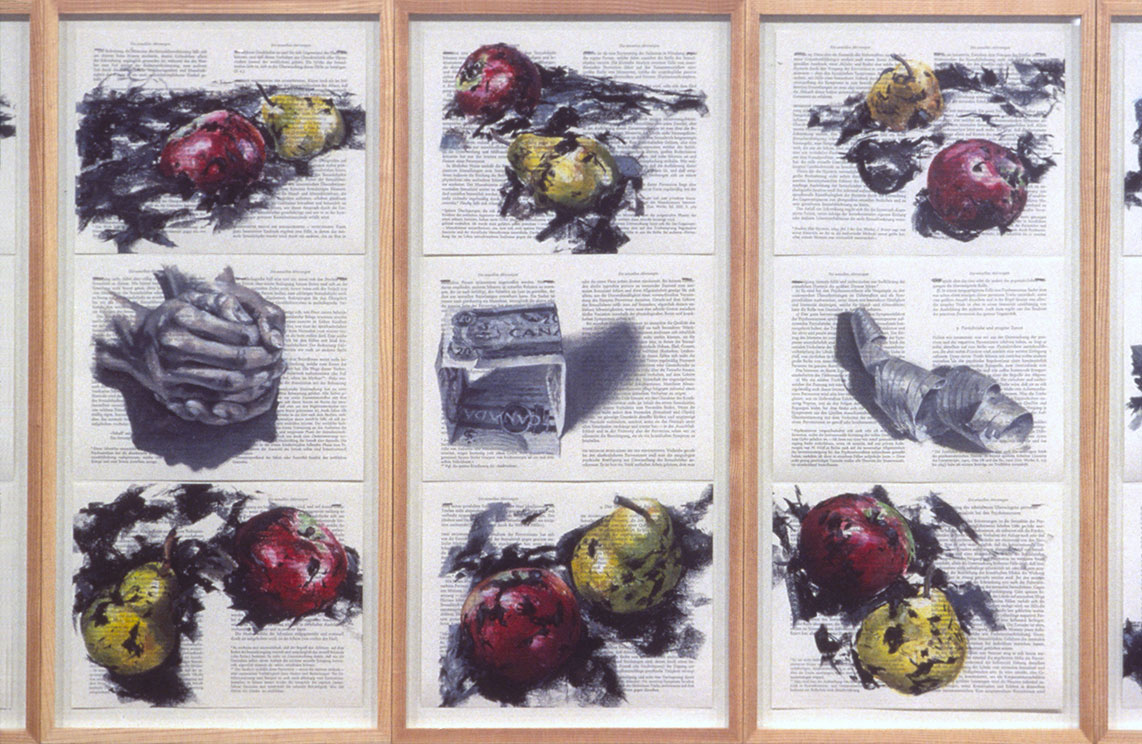 Drei Abhandlungen + Trois Essais | 1991 | installation view, Galerie Rene Blouin

PDF File - click to download | Three Essays on the Theory of Sexuality catalogue
Not Everyone was a project commissioned by the Agnes Etherington Art Centre, Queen's University, Kingston that employed an actual sized B+W photographic image of the view out through a window of the Kingston Penitentiary, along with a series of figurative "painted sketches", both employing steel panel supports.
Although viewed conspicuously from above as in public surveillance, an aspect of anonymity is restored to the figures through the interpretive aspect of painting. In contrast however, the photographed window appears to uncannily mimic and reassert the cycloptic gaze of the camera.
Not Everyone | 1991 | installation view, Agnes Etherington Art Centre
Not Everyone | 1991 | oil on steel, 43 cm high each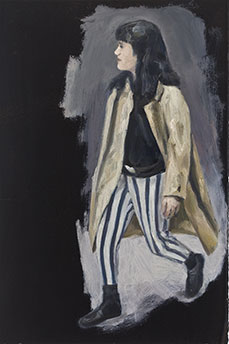 All in All | 1991 | oil on canvas, 213 x 63 cm
All in All | installation layout plan

401 Eastern Border | 1994 | installation view
401 Eastern Border depicts Highway 401 at the crossing point between Ontario and Quebec shortly before the Quebec Referendum of 1995, an event that might have transformed the provincial border into a national border. The painting is also an homage to a much brighter and more optimistic view of the 401 by Jack Chambers in his painting 401 Towards London No. 1.
Grassfire | 1993 | oil on canvas, 246 x 135 cm
Grassfire | 1994 | installation views and painting details, Power Plant Contemporary Gallery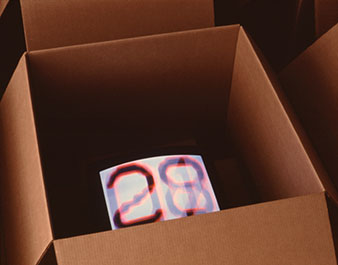 Axis Mundi | 1995 | oil on canvas, 125 x 214 cm
Sunburst | 1999 | oil on canvas, 107 x 77 cm
Numeral 1 | 1995 | oil on steel, 55 x 45 cm

Numerals | installation view detail, Galerie Rene Blouin

Numeral 8 | 1995 | oil on steel, 55 x 45 cm

Numeral 5 | 1995 | oil on steel, 55 x 45cm


Numeral 5 (2nd version Numerals) | 2008 | oil on canvas, 53.5 x 43 cm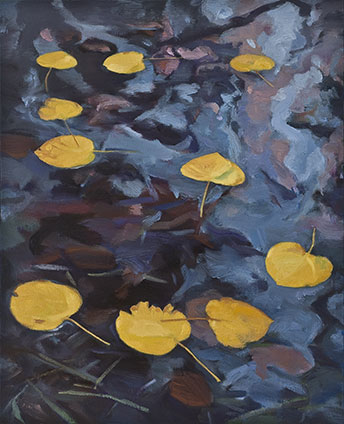 Numerals 2nd version, and Grassfire | installation view, MOCCA
Installation view | Numerals 2nd version and Grassfire, MOCCA
Aspen Leaves | 2005 | oil on plywood, 112 x 102 cm
Aspen Spiral | 2002 | oil on canvas, 122 cm tondo

Grasses | 2002 | oil on canvas, 122 cm tondo